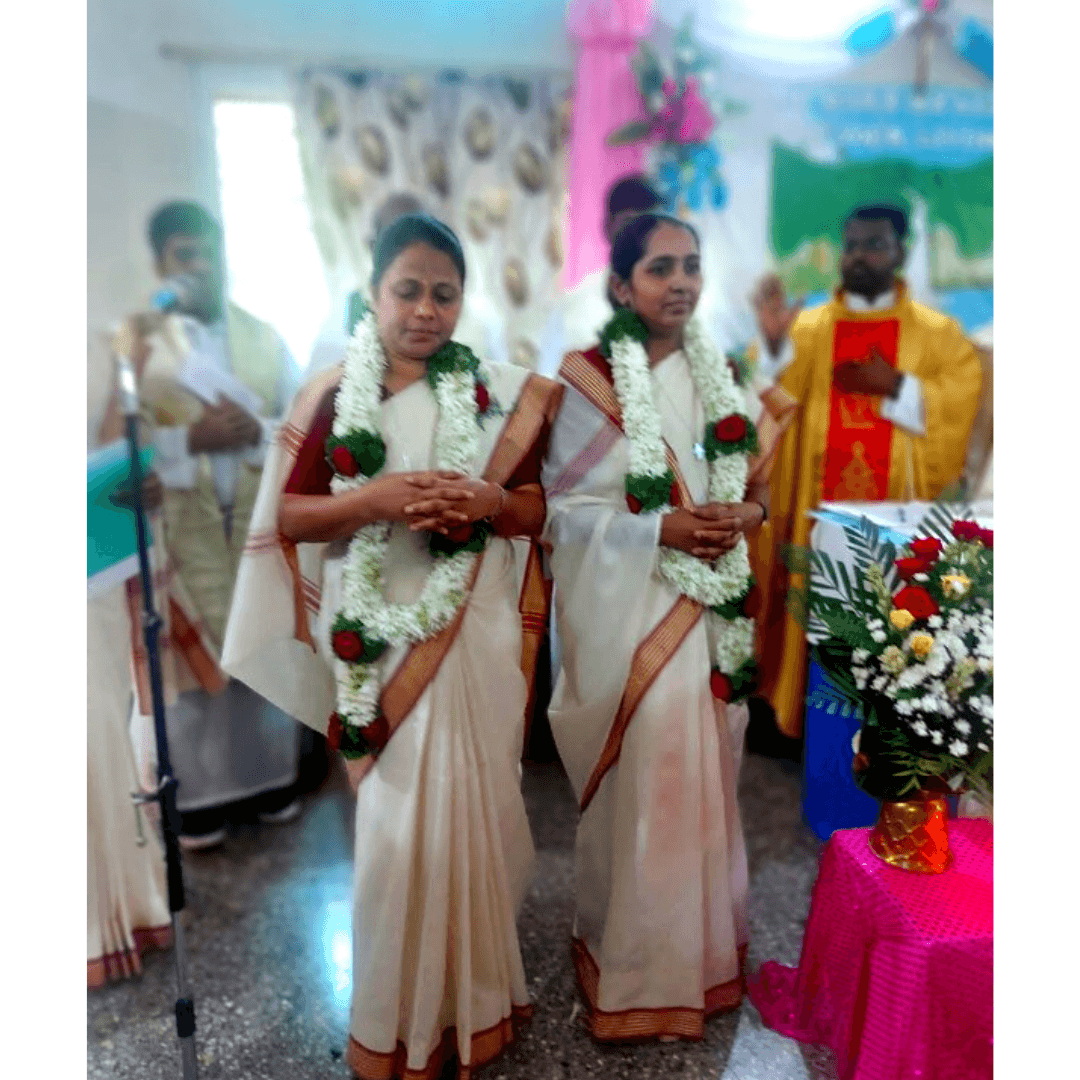 On July 16, was a significant day for us in Pune, Bibwewadi as Anjela made her vows for life and Jayshree renewed her vows.It was held at HHC. The community room in annex was prepared for the priests with vestments, there were 17priests and Fr Tony Raj SJ was the main celebrant.Anjela, her mother and brother, Srs. Usha, Anna Kalista, the priests were led to the altar (dining hall, where the altar was prepared) with entrance dance. The six precandidates did the entrance dance. Two of the three language students applied Chandan (sandal wood paste) on forehead of those who were led to the altar with dance.
Fr. Saji and Fr. Prasanna from Jnana Deepa Vidyapeeth (JDV) along with Sr. Margaret, pre-candidates and the sisters led the singing with the music – key board , guitar and tabla and voices beautifully blended.Francisca compered the whole final vows ceremony. The main celebrant focused on the theme 'Lord make a channel of your living water'. All are invited to be the living water which is a gift and grace of God as Anna Dengel in her time became a channel of living water.
After the homily Jayashree renewed her vows. Anjela's mother and brother accompanied Anjela to the alter blessed her and placed Angela's palms in sr. Usha's palms symbolizing handing over their daughter to MMS. Usha received her palms in her hands. It was a very moving gesture of offering Anjela to God and the service of God's people. The ring was blessed by father. Anjela was given the ring by Usha after she pronounced the Vows for life and was garlanded. At Doxology Anjela, Jayshree and Bimla did the Aarti expressing the joy and surrender to God.The Eucharistic celebration was very meaningful, solemn and graceful as everything was very moving. It was a simple and joyful celebration. There were guests from parish, friends of MMS, family members of Anjela and MMS.
In the evening the MMS communities gathered in Holistic Health community and enjoyed the cultural evening. The sisters, candidates made it an enjoyable one.The day was a day of joy and gratitude for all of us. HHC and Sandipani community sisters planned and organized saw to all the necessary arrangement for the event. It was a special day indeed!