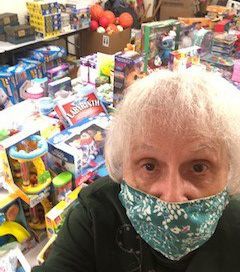 Sister Miriam Therese (MT) Winter collects toys (thousands of toys!) every December to give to children in her city of Hartford, CT.  Organizations who have come to depend on her support were calling last month, wondering if she would be able to provide presents in light of Covid-19 – their need was even greater last year due to the pandemic.
Providing these gifts to her community was a priority for Sister MT and she worked diligently to make it happen.  Kristyn and Ed Manemeit, two MMS Associates who have been helping for the past five years, joined MT again this year to make it happen. Before breakfast one day the local Ocean State Job Lots opened their doors for Sister MT, Kristyn and Ed to come in before they opened to the public.  Other organizations Sister MT is connected with made donations, or gave whole sale discounts for their purchases.  Kristyn estimates they collected between 1500 to 2000 toys, games, crafts and more that they distributed (safely) throughout the Hartford area. 
This is just one story of many that Sisters and Associates have been sharing – that despite steep challenges from the coronavirus they are finding their way through to remain present and constant in their commitment to care for the 'least of these'.