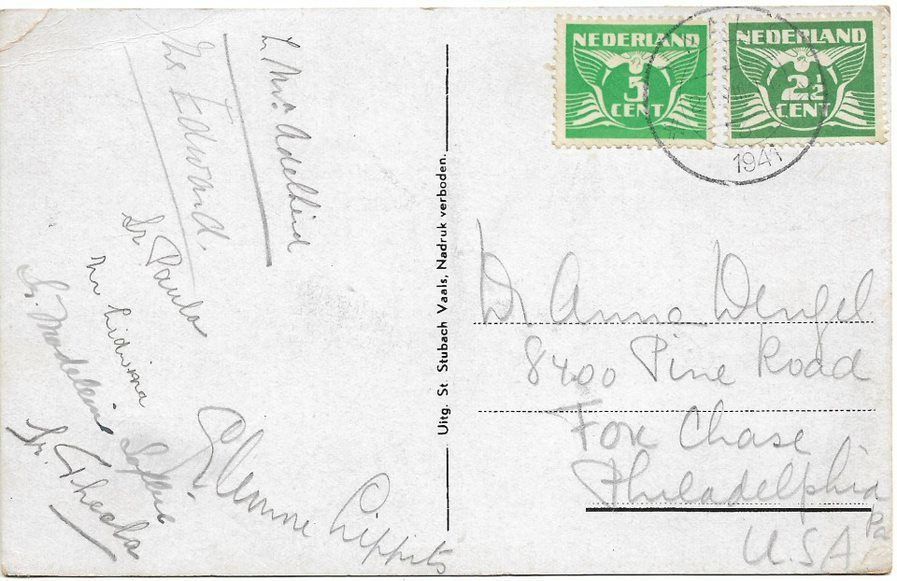 We made an unexpected discovery in the Archives recently: an extensive and fascinating postcard collection.
There was nothing extraordinary about the postcards at first glance.  MMS is an international organization, and it makes sense that Sisters would keep souvenir postcards from their travels.  But on closer inspection, these postcards turned out to be more than mere mementos.  They situate the Medical Mission Sisters in history, against a backdrop of significant world events in the twentieth century.
Organized by country or geographic region, the collection features postcards from Africa, China, Spain, England, France, Canada, Japan, Israel, Italy, and the United States (to name a few!)  The postcards mostly date from the 1930s-1960s.  They feature images of native people and customs, as well as landscapes, tourist attractions, and significant architecture. 
Many of the postcards were addressed to Anna Dengel.  They were written from Europe, from family and friends, and some dated from as early as the 1920s.  Among the most notable are postcards from Dr. Margaret Lamont, Pauline Willis, and Rev. Michael Mathis.
A few postcards contain unique stamps that connect MMS to significant events in Europe.  One features a stamp commemorating the 1936 Berlin Olympics.  These were the first Olympics to feature the torch relay, and the first Olympics to be broadcast on television.  But the 1936 Summer Olympic games are best remembered for Jesse Owens, who won four gold medals and upset Adolf Hitler's effort to use the event justify racial superiority.
Another postcard bears the stamp Mostra Rivoluzione Fascista.  This stamp commemorates the Exhibition of the Fascist Revolution, an exhibit that ran in Rome from 1932-1934.  The exhibit, sponsored by the Italian Fascist government, described Italian History through the lens of Fascist propaganda.
One postcard stands out as a touching piece of MMS history.  In 1940, Germany invaded the Netherlands, effectively cutting our Dutch sisters off from their American counterparts.  Sent in 1941, this postcard is addressed to Anna Dengel and contains no message – simply the signatures of our Sisters in the Netherlands.   It reads as a brief "we're alive!" message.
For all the interesting postcards in this collection, there are some outliers that make this a bit of a mystery collection.  Tucked in the boxes are blank telegram sheets from the French Congo from the late 1800s.  There are a few postcards from the nineteen-teens that predate the Society, and strangely, a signed photograph of actress Beryl Laverick. It begs the question, how did this collection come to be?  Did someone donate the collection, or did an MMS put it together?  Who could our mysterious deltiologist be?