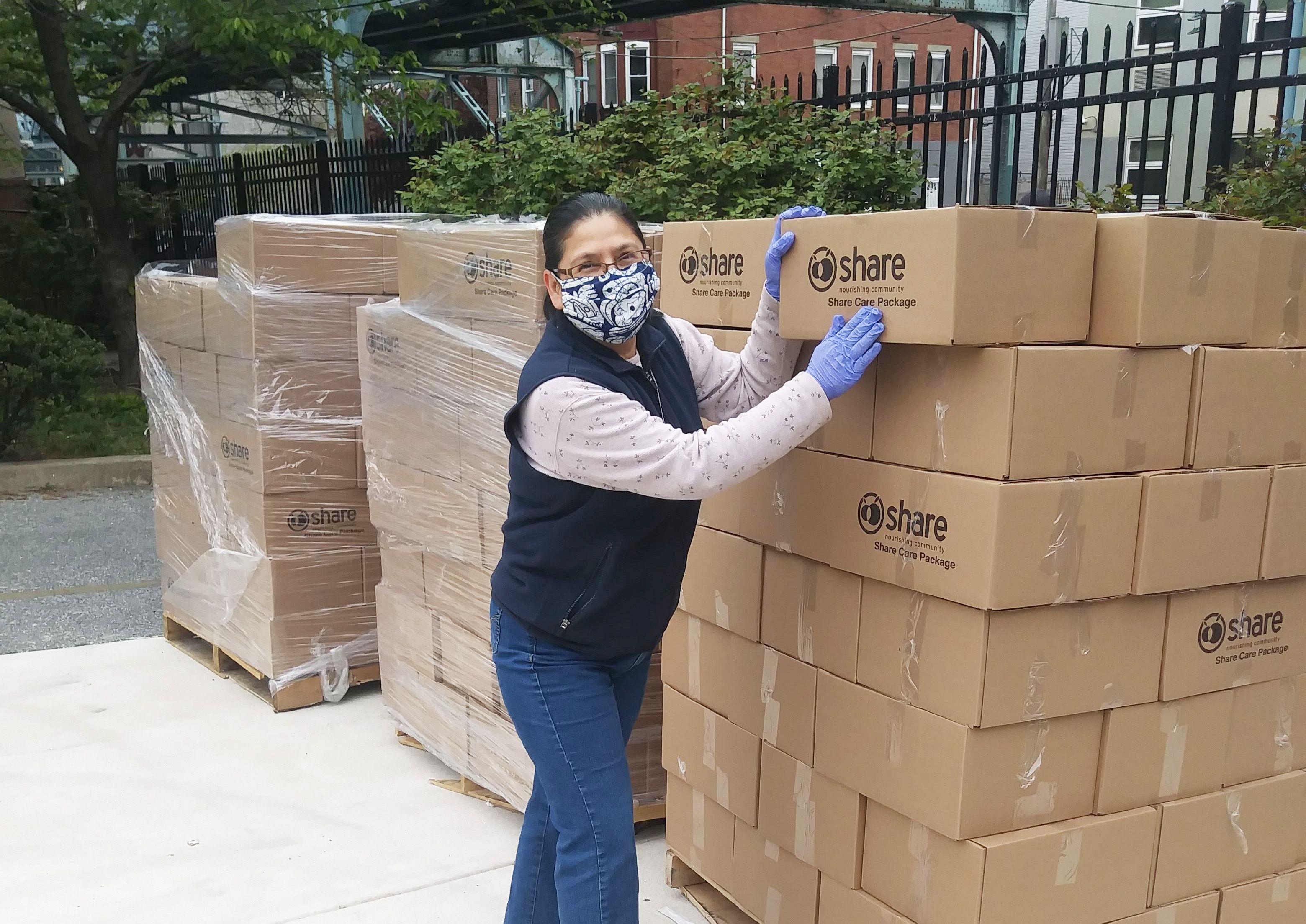 Around the world, the Coronavirus pandemic has transformed our daily lives, creating a host of new challenges for already vulnerable populations. In this issue, we share with you how a few of our Sisters are responding to both the concrete and emotional needs of their communities.
In Kensington, an inner-city section of North Philadelphia, Sister Marisol Martinez works in overdrive. On Tuesdays and Thursdays she goes to her local community center where she receives food provided by the city of Philadelphia. She then distributes 420 boxes of groceries to anyone who needs food, often those without homes as well as people who have lost their jobs because of the pandemic. The boxes contain dry foods one day and the next, fresh fruits and vegetables.
Every day Sr. Marisol helps cook and distribute meals at Sarnelli House, an organization dedicated to providing for the needs of people made poor. Before the coronavirus outbreak, she helped serve meals to approximately 120 people per day. With so many community organizations now closed, she helps serve 200 people every day who wait patiently in a line that snakes around the block. Sister Lucy Klein-Gebbinck, working at another food distribution center in Kensington, reported that one family walked from a neighborhood three hours away to receive food.
Initially, people waiting in line for food did not have masks, putting them at increased risk for infection. In response, Sister Barbara Ann Brigham, who also helps cook the food, coordinated an effort to provide masks in Kensington as well as at New Jerusalem Now, a drug and alcohol recovery program run by Sisters Margaret McKenna and Sylvia Strahler in North Philadelphia. Sisters Myrt Keller, Teresa Arac, Suzanne Maschek, Eunice Cudzewicz, Associate Marian McDonald and partners in mission, Karol Devitt and Mary Morwald sewed and donated 200 cloth masks that can be washed and re-used.
Lack of hand sanitizer was another urgent problem. Sr. Frankie Vaughan engaged a small local business, Philadelphia Distillery, to sell hand sanitizer in bulk. MMS is repackaging it into 320 one-ounce spray bottles that Sr. Marisol can distribute to people who have limited access to clean water and soap. Sisters Marisol and Lucy have both noted that despite the extremely difficult circumstances people are in, they have observed the solidarity of women and men who are helping each other carry bags of food, sharing information and providing support and comfort to each other.
 
In Kerala, South India, locked down since March, Sister Regy Augustine Peringarappilly was determined to help in some way with the consequences of the pandemic. "I had decided not to miss even a single, minor opportunity to use my God-given talents to comfort and console my fellow beings in this crisis situation," Sister Regy shares. She learned of an opportunity to get involved with the State Mental Health Program's telephone counseling efforts and spent four weeks providing psychosocial support by phone to around 50 people from across India every day.
In total, she has supported around 500 people, some of whom were struggling with depression, anxiety, insomnia and distress over lack of access to food and medicine. Sister Regy was also able to arrange for food to be provided to those in need. At the end of each call, she assured the individual that "you can call us at any time, for anything and we are with you." There is no country that hasn't been touched by the coronavirus in some way. MMS around the world have answered the call for action, each responding to the need as presented, echoing Sister Regy's promise: "you can call us at any time, for anything and we are with you."