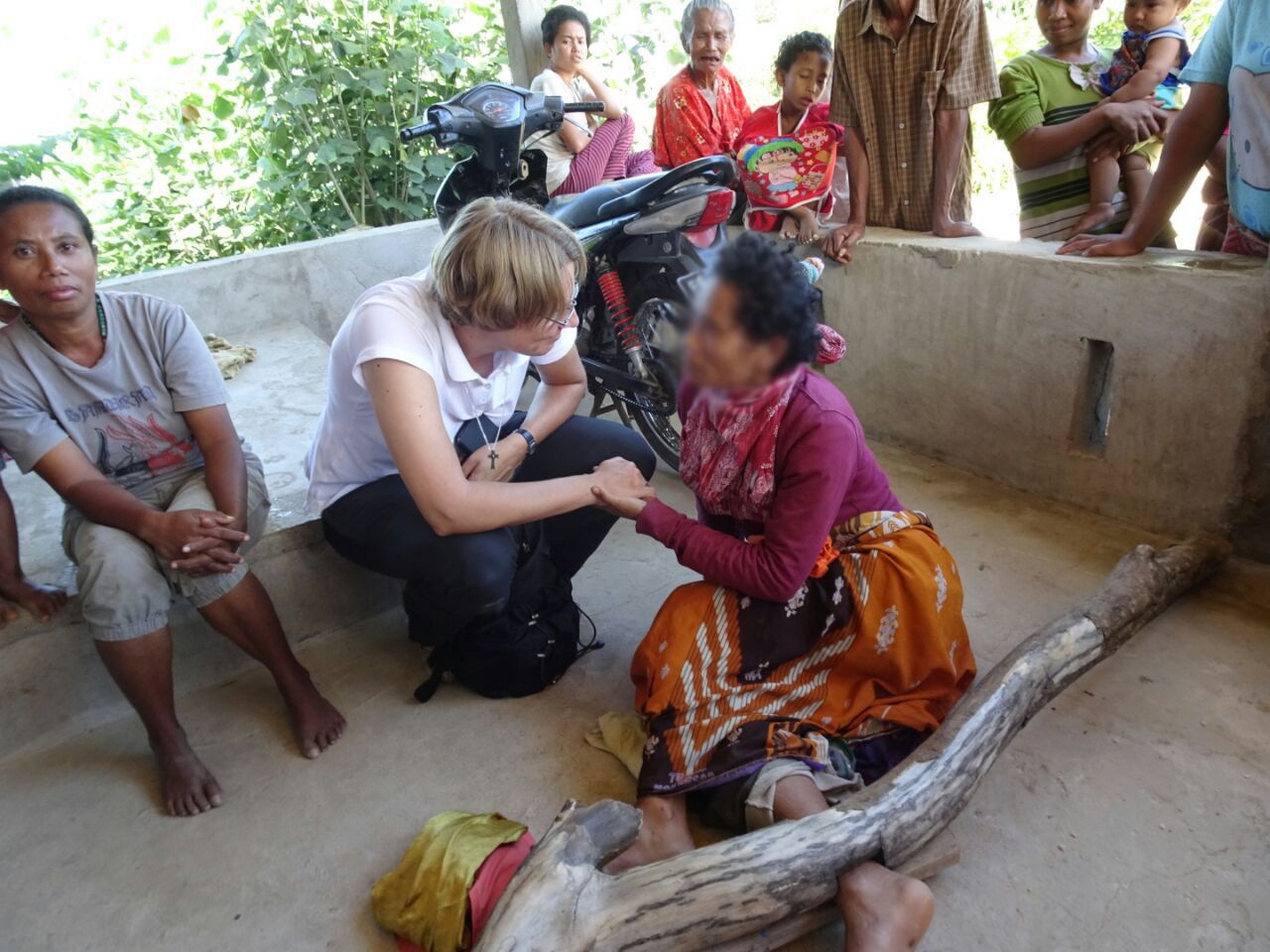 When Mother Anna Dengel went to Pakistan nearly 100 years ago to provide medical care to Muslim women who were banned by the laws of purdah from seeing male doctors, she set an instructive precedent. Throughout our world, there are people whose quality of life is determined by circumstance. While technology and medicine continue to advance, those advances are too often out of reach for those made poor. Medical Mission Sisters and Associates are grateful to be among those who can help mitigate the circumstances of some of those who suffer. We humbly share with you the stories of two sisters working in Indonesia and India.
Sara had already given birth to three children when her neighbors in East Indonesia began noticing her strange behavior. They looked on in fear as the young mother talked to herself, laughed for no apparent reason and even stripped herself naked in public. Fearing that she was possessed by an evil spirit, the village elders saw no choice but to restrain Sara by tying her left leg to a heavy, two-meter-long tree trunk—it is a practice common in Indonesia known as pasung.
Over the next six years, Sara's mental state never improved. Her children were sent to live with their individual fathers and, after Sara's parents died and her brothers moved away for work, she was left all alone.
When Sister Dr. Anke Felicitas Boeckenfoerde arrived in the impoverished village, Sara had still never been seen by a doctor of any kind. Travelling with several colleagues from Caritas, Sister Anke found Sara after hearing her screaming. She followed the sound of the screams, which then turned to laughter.
When they reached Sara, she was quite irritable, but she could answer their questions adequately enough. Sister Anke was able to contact Sara's brother, who gave her permission to finally begin providing his sister with the proper mental health care she so desperately needed. When it was time for Sr. Anke and her team to leave for the day Sara began to cry, so Sister took her in her arms and consoled her until her sobbing subsided.
In addition to making regular visits to care for Sara, Sister Anke's team had to also provide mental health education to those living in the village.
Sister Anke shares: "It will be a long journey to free Sara from pasung and hopefully be able to bring her to the Center of Psychosocial Rehabilitation."
In Kerala, India, where the poverty rate has steadily declined in recent decades, Sister Regy Augustine Peringarappilly notes that "there are still pockets of deprivation in the state that affect different communities. There are groups of people living under the poverty line that are taken care of neither by government nor any other organizations. In this situation, we Medical Mission Sisters are aware of our call to the mission of Jesus that inspires us to contribute to the Sustainable Development Goals envisioned by the United Nations."
Among Kerala's most vulnerable populations are those who are poor who also live with HIV/AIDS. They face intense social stigma as well as lack of adequate medical care. MMS in the region operate two projects to help alleviate some of the suffering of this population-- Sister Dolores Kannampuzha's Cancer and AIDS Shelter Society and Sister Regy Augustine's Care and Support for HIV/AIDS program. In total, they reach about 150 families, many of which are led by widowed women who work for daily wages.
MMS help to provide access to basic necessities, raise funds to send their children to school and provide training for various income generating projects. Those with HIV are given nutritious food like peas, rice, soy beans, protein powder, coconut oil and milk to improve their immune system. They are also provided access to a doctor. Sister Regy joyfully recalls instances when people from the program told her they were feeling much more energetic, or that they had gone to the doctor and learned their CD4 "helper" blood cell count had risen. Each month, the Sisters also oversee a gathering where people in their programs attend awareness classes, group therapy and participate in games.
Sister Regy shares: "This gathering has been a platform for them to share their happiness and grievances. It helps them to come out of their fear and feelings of rejection."
With each person whose lives we are able to affect, we gain hope that these actions will have a ripple effect. Sister Anke shares: "It is Anna Dengel's words which fill my heart with great confidence: 'We must go forward with great optimism, the right kind, not foolish. But that optimism founded and grounded in faith, hope and charity.'"
Photo caption: Sister Anke Felicitas Boeckenfoerde visits with a woman in Indonesia who was restrained after being judged to be mentally ill.