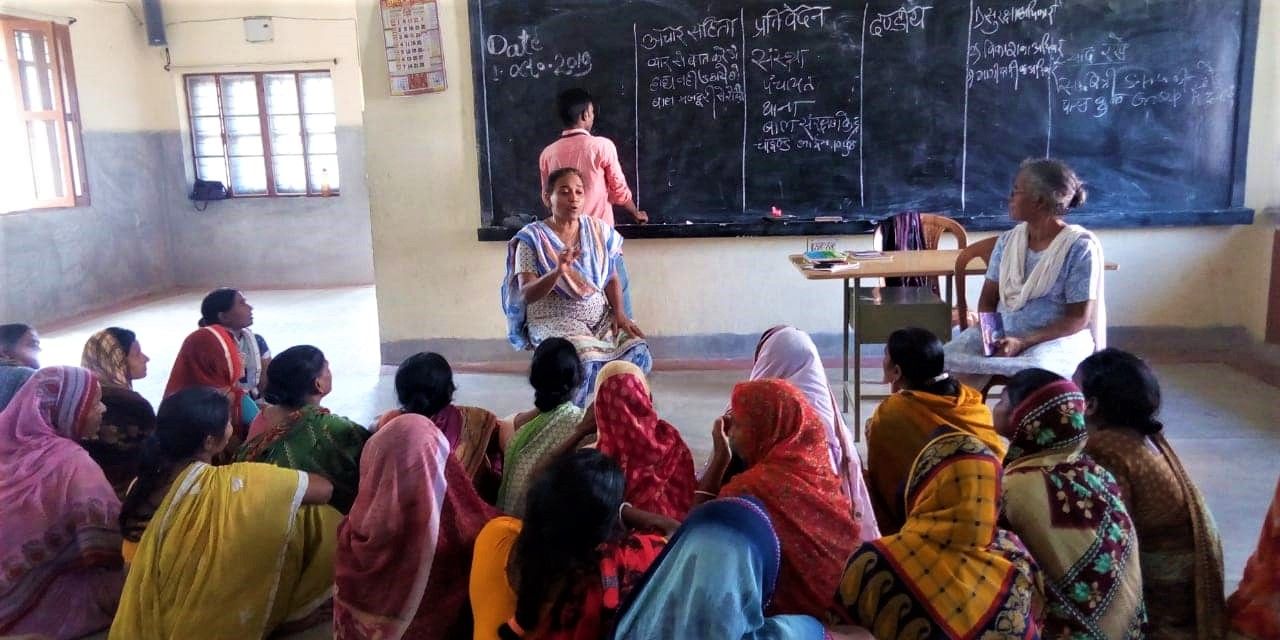 Medical Mission Sisters and Associates in countries around the world are engaged in projects to educate and empower women, often in societies where gender inequality is especially pervasive. Young girls are statistically less likely to receive an education than young boys, even though data consistently proves the old African proverb: "when you educate a girl, you educate a nation." Data also shows that when women made poor are given economic resources like micro credit loans, they start businesses and invest in their children's futures. Education and economic independence foster self-esteem and, ultimately, empowerment. 
It was up to Thankamma Joy to keep things from falling apart at home. Her husband was usually too intoxicated to care if the cattle had been fed, and her only son continued fighting with her for a portion of the family's four acres of land. For many years, she seldom had a moment to herself; when she wasn't working, she had to deal with financial burdens that never seemed to go away.

Eventually the stress took enough of a toll on her for others to notice. Her neighbors in the South Indian village of Kattakala invited her to join a local women's group, where she met Sister Lilly Isaac Vathalloor.

"She came and shared her struggles," Sister Lilly recalls. "She started to come regularly for the meetings and activities."

Thankamma eventually was elected as president of the Village Action Committee and, with the help of a small loan, the kitchen garden she developed became a profitable operation for her. Thankamma's story mirrors the experiences of women who MMS have met in countries around the world -- women who support and empower one another as they navigate the challenges of rural life.

"Yes, they suffer, they fall, they cry, but they don't give up," says Sister Smita Parmar, who works with Mahadalit women in India. "Once they are aware and empowered, we do not have to do much."

Half a world away in Peru, Sister Gisela Reich works with the Program for Citizenship and Democracy (PCD) leadership program in Audiovisuals of Peru (Adep). She watches in awe as young boys and girls from marginalized areas of Callao and Lima develop confidence while working together. She'll never forget one young woman, Pamela Barrantes, who entered the program after secondary school.

"She was quite shy and had a low esteem of her capacities and knowledge," Sister Gisela remembers, adding that over the next nine months of the course Pamela "was a constant and persevering participant."

Throughout the course, students learned about topics such as leadership, personal development, democracy, civic involvement and ecology. They then applied what they learned during "mission" weekends in a small village four hours away from Lima. 

Sister Gisela and Associate Jorge Reyes were delighted when the students asked to return on their own volition the following year. They even took over organizing the yearly Construyendo Esperanza (Building up Hope) festival. To lead the group, the students elected none other than Pamela, who excelled despite her limited experience.

"She did everything, every deed and every work with such gentleness and quiet steadiness," Sister Gisela reflects.

Pamela went on to study communication in Catholic University, where she was supported by the Becca 18 program which gives full scholarships to high-achieving students. During college, she returned to Adep and helped to organize a "Program for Empowerment" and eventually was appointed to a communications position.

Sister Gisela shares: "For me, it is such a joy to work, walk and grow together with Pamela. While she is empowered to grow into her adulthood with conscious choices, I am empowered to be a better accompaniment to her and so many other young people."

The difficulties that women and girls endure around the world are sadly innumerable and, as Sister Teresita Hinnegan frequently points out, they are often interconnected. She is currently producing a video on counteracting the messages that teach young boys to be violent from a young age. Like Sister Teresita, MMS around the world passionately push back against misogynistic cultural norms, helping to tear down the barriers that oppress women and to be a part of their stepping into strength and power.