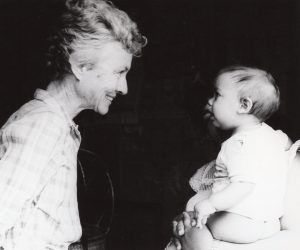 For a Medical Mission Sister, retirement is a vague concept-even our Sisters in their eighties and nineties can't sit still for too long. When missions end, they carve out new ways to be a healing presence in the world. Sisters Patrice McSweeney and Patricia Gootee are two Sisters who, after decades of cherished missions in South America, continue to find ways to be fire and flame.
Sister Patrice McSweeney says she will never forget the day her youth ended. She was 60 years old, give or take a few years. As she drove into the barrio where she was working in Venezuela, the local children came running up yelling "Grandma! Grandma!" She scoffed at the idea but took a quick look in the mirror. "Goodness," she thought, "Those kids are right!"
"That was my introduction to old age," she recalls with a chuckle. Sister Patrice is in her 80's now, and lives at our North American Headquarters, where she volunteers each week in the Mission Development Center. She walks with a cane, and her voice is soft, but it is worth leaning in to listen to what she has to say, often something funny.
Maybe Sister Patrice's good humor is a natural part of her personality, or perhaps the result of contentment with a life well-lived. Born to American parents in Colombia, Sister Patrice lived in Venezuela as a young girl. Years later, after making her Final Vows as a Medical Mission Sister, Mother Anna Dengel called her aside. She was still trying to decide to which country Sister Patrice would go.
"Is there any reason you would not want to return to Venezuela?" Mother Dengel asked her. Sister Patrice stood as stiff as a board and answered with a simple "no." On the inside, however, she says, "I was doing cartwheels!"
Sister Patrice would spend nearly 40 years in Venezuela, ministering as a rural health nurse and doing parish work. If she was sad when she left her mission she doesn't say so. It wouldn't be out of the ordinary if she had been.
It took Sister Pat Gootee more than a year to get over the blues she felt after returning to the U.S. from more than 40 years of mission in Peru. Over time, her sadness became overshadowed by a feeling of joy. A trained nurse, Sister Pat's legacy in Peru includes helping to end a smallpox epidemic that had periodically plagued villages throughout
the Caylloma province since the 17th century, and establishing the Anna Dengel Center, which serves preschool children and empowers local women.  She also co-founded the Community of Families and Comprehensive Rehabilitation (COFARI), which serves primarily low-income children suffering from cerebral palsy. When Sister Pat first arrived in the area, children ran away in horror – the only women with white skin and blue eyes they had ever seen were the witches in their story books. By the time she left, however, she had inherited a multitude of godchildren, many of whom still keep in contact with her.
Currently, Sister Pat lives in Camden, NJ, where she visits elderly people who live alone, all but forgotten by their busy relatives. She hopes to soon join an ongoing project working with Spanish-speaking people, perhaps something related to health.
"In Spanish we don't say 'retirement,' we say 'jubilación,'" said Sister Pat Gootee. "That means 'a celebration.' You have arrived at the point where you've been there, done that and you turn over what you have done to the younger people who are going to carry on what you have been doing– doing it the same or better than what was done by me. That's something to be joyful about, not something to be sad about."