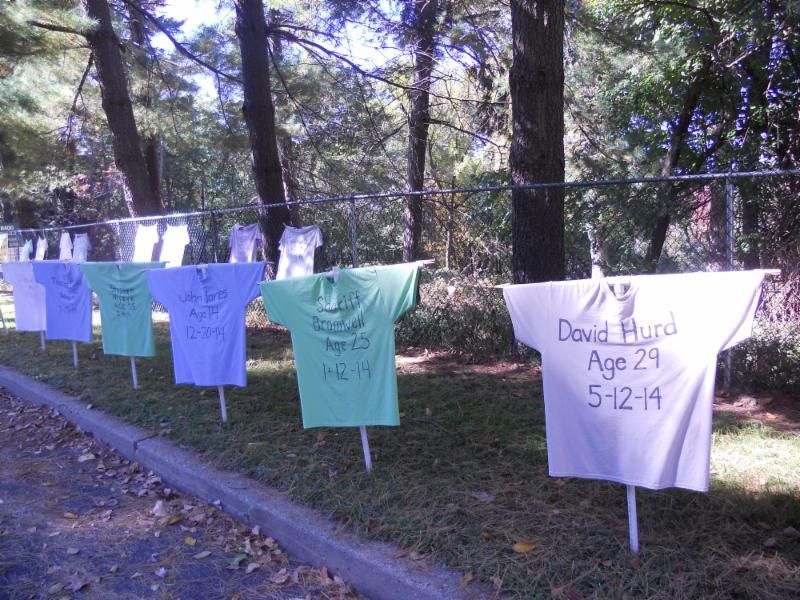 In a particularly memorable campaign led by Heeding God's Call, several MMS, including some of our most elderly Sisters, helped to rally and hang t-shirts depicting victims of gun violence along Pine Road in Fox Chase.
Only three months had passed since her son's death, but Associate Marge Sexton felt hopeful when she walked into a Philadelphia gun shop in March 2015. She stood in front of the counter just as her son Ron had three months earlier when he purchased the gun that he later used to take his own life.
She thought of this visit as an "unusual ritual," something she felt in her soul that she needed to do as part of her healing journey. Instead of buying a gun, she read a heartfelt letter explaining how a routine and perfectly legal purchase had nevertheless turned her life upside down.
Accompanied by her husband, she read to everyone in earshot: "I am just another weary mom whose life has been upended by the tragic convergence of the easy availability of guns and Ron's own depression that would cause him to come in here and walk out with a handgun, which is the worst thing imaginable."
After she finished, she and her husband embraced each other in the parking lot and, together, they cried. Sometime later, Marge learned that another young man visited that same gun shop, purchased a gun just as her son had, and then walked out back to the shooting range and took his own life.
Tragic stories like these are what drive Medical Mission Sisters (MMS) and Associates to do their part in our nation's battle to stop the epidemic of gun-related deaths and injuries. Of the 96 Americans who are shot and killed each day, seven are children and teens. Sister Vera Sheenan knows all too well the pain those children's deaths inflict on families. In 1993, she was assigned to St. Vincent de Paul Parish in Germantown, Philadelphia, where visiting mothers who lost children to stray bullets became a routine part of her mission. At one point, a ceremony was held in Center of the Park, where a tree was planted in honor of children who had died.
She recalls one experience that especially unnerved her: Meeting a mother who had already lost a son and Iater watched her four-year-old daughter suffer after a gunshot wound to the leg.
"Four-year-olds have these skinny little legs," Sister Vera said, placing her thumb and index finger together in the shape of a small circle. "That affected me very deeply."
Sister Vera left Germantown in 2006, but the images of those mothers' pained faces stayed with her. It wasn't long before she took action, joining other MMS in calling local lawmakers about safe gun legislation. They also protested with members of Heeding God's Call, an interfaith grassroots movement to stop gun violence, outside of a local gun shop that was known to sell to "straw buyers" who then sold the purchased guns illegally. The link between this practice and the deaths of children in places like Germantown was not lost on Sister Vera. Eventually the picketing worked and the store stopped the practice, though it remains an all too common occurrence in the U.S. 
Medical Mission Sisters and Associates continue their efforts to shed light and raise awareness on the toll of gun violence in our communities.  They are deeply aware that most at risk are the neighborhoods who are particularly vulnerable due to poverty and disempowerment and all its implications.  "This degree of gun violence just doesn't exist in other parts of the world," says Sister Barbara Ann Brigham, who served for many years in Peru and India. "[In the U.S.], somehow poverty is just not the same. You can be poor and you can maybe get a gun or get someone to buy it. In other places poor people couldn't dream of getting a gun."
Understanding that gun legislation is a complicated, complex issue, MMS act with passion and compassion, in a living hopefulness that the world can be a different place, more whole, more loving.