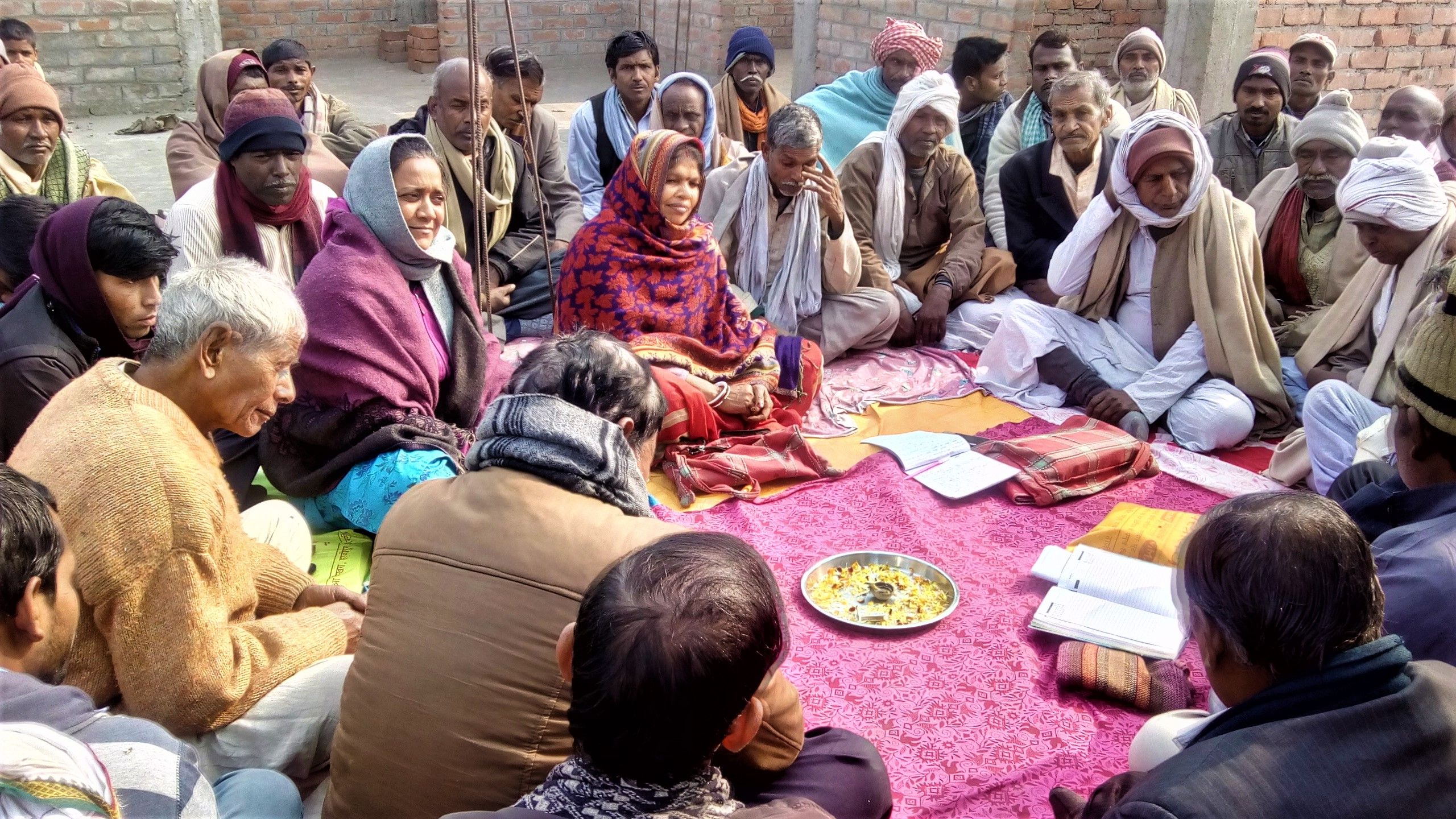 Many years ago, our Founding Mother Anna Dengel wisely said that we should "be in step with the needs of our own lifetime, into which our responsibility is set by God's providence." As our Society enters its 95th year in 2020, we continue to take her advice to heart. Today, our Sisters and Associates work with populations affected by issues like gun violence, forced migration and prejudice. For many MMS, their experiences in mission inspired them to become fierce advocates for change. We share some of their stories and reflections with you in this article.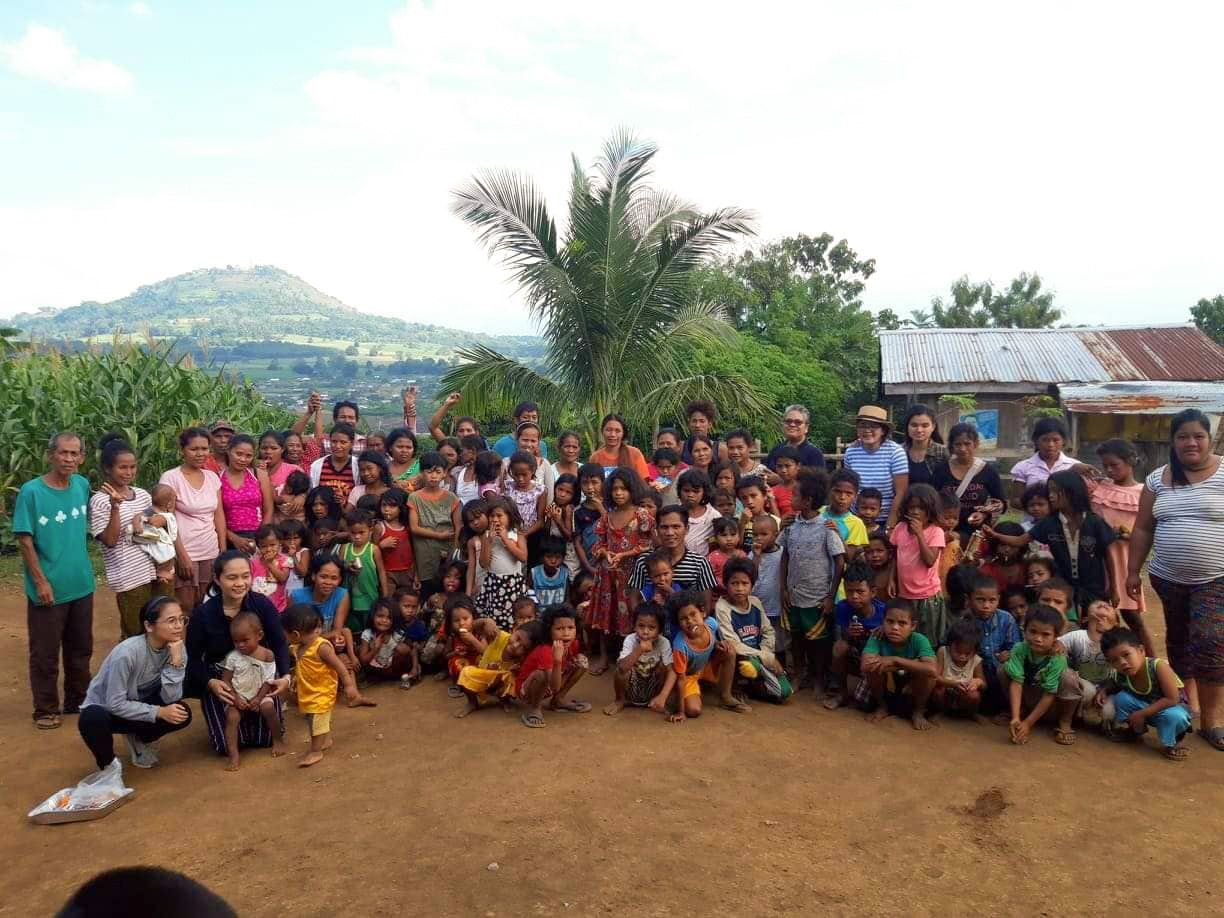 Yesterday, MMS in Bukidnon, Philippines enjoyed a festive celebration with members of the indigenous TINDOGA community, sharing a meal of rice, spaghetti, fried chicken, beef steak and apples. There was also candy and various children's games, which some parents joined their children in playing. Sister Maria Adelina Acuña Arocha-Torres shares: "It was really a very heartwarming experience. God was certainly there yesterday with us on the second day of Christmas."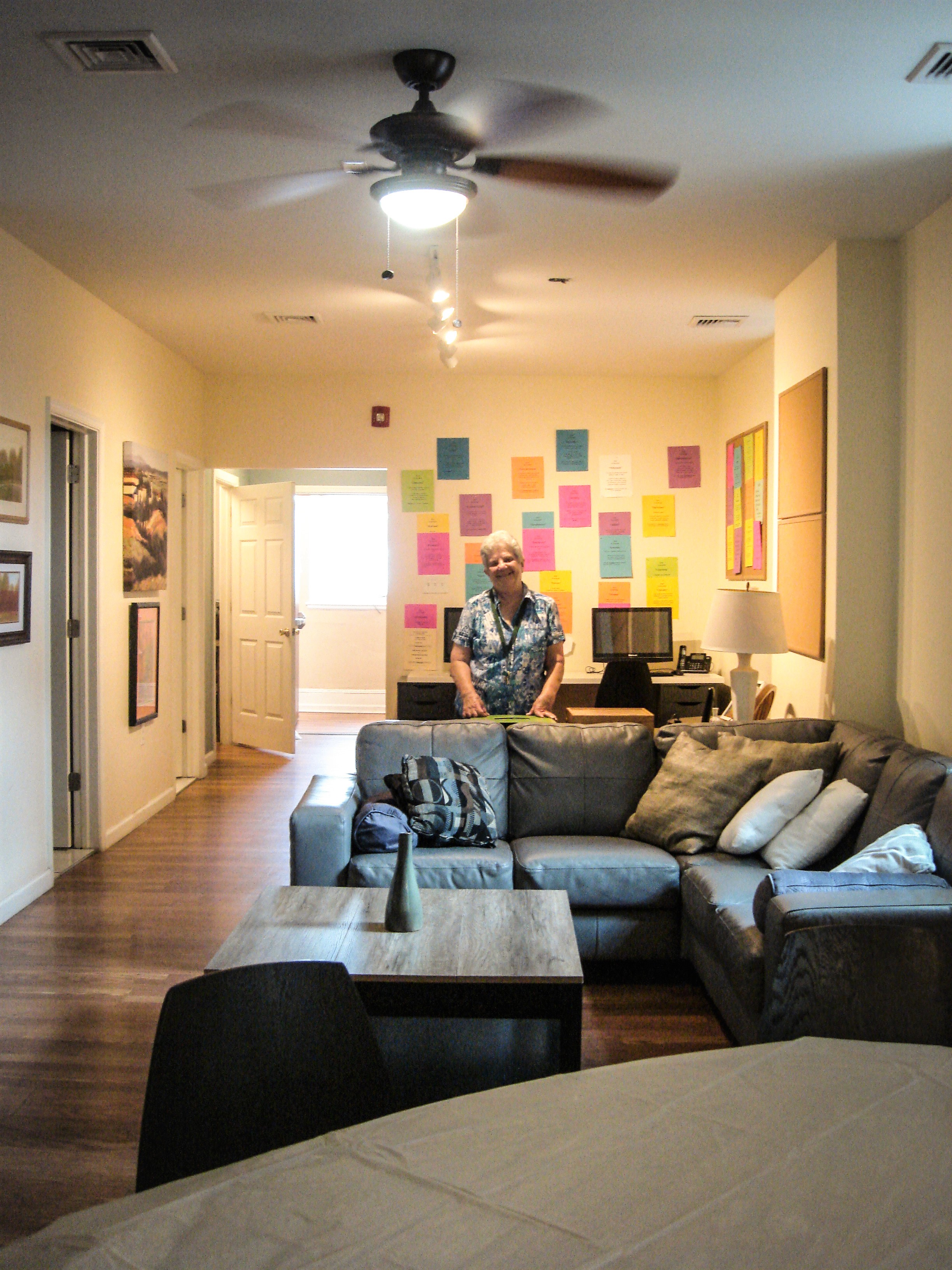 Sister Maria Hornung (pictured), along with other Medical Mission Sisters, are thrilled to help facilitate the reopening of the Thea Bowman Women's Center in Kensington, Philadelphia. The Center reopened on Monday, November 9, 20 years after it was originally opened by Franciscan Sisters in 1989. Named for a Franciscan Sister who helped found the National Black Sisters Conference, it serves as a "drop-in" outreach facility. There, women who are marginalized by poverty, homelessness, addiction, trauma and commercial sex work are invited to rest, shower and have a hot meal in a safe place. Please join us in praying for healing and well-being for the women who come to the Center.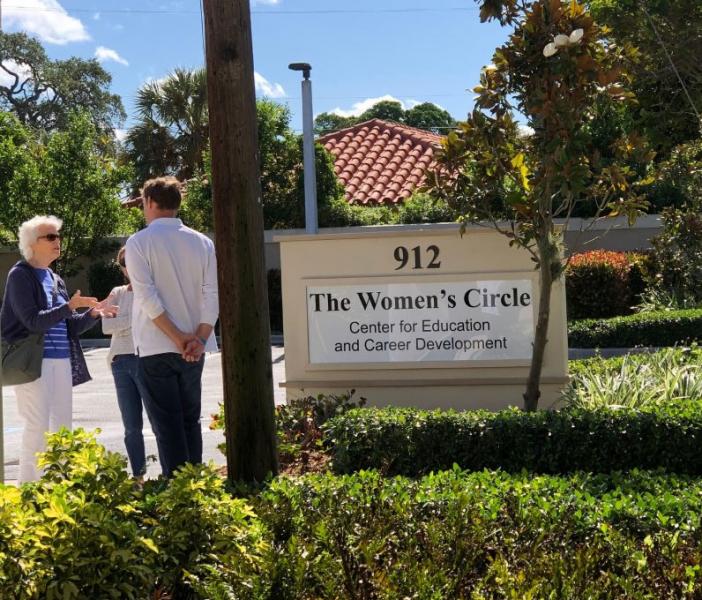 In January of 2000 a project began to help refugee women entering the United States learn English, obtain healthcare, and gain the skills and education they would need in order to make a decent life for themselves. The idea started with Sister Lorraine Ryan MMS, and she shared it with Sister Joan Carusillo CSC. In Boynton Beach, Florida, they started small, and the project grew to become known as The Women's Circle. The grand opening of the expansion of The Women's Circle was held on November 16, 2019. Sr. Lorraine and Sr. Joan were honored as the co-founders. The Chair of the Board of Directors gave the welcome speech and recognition to the major donors who have supported this project, including the Medical Mission Sisters and the Sisters of the Holy Cross. Sr. Joan gave the opening prayer. Sister Lorraine expressed her gratitude to God and all those who contributed resources, staffed and volunteered to make this good work happen in Boynton Beach. Sisters Mary Kirkhoff and Pat Travaline, MMS, went to Florida to celebrate the expansion of this good work with Lorraine. Lorraine has handed over leadership to the new CEO, Julen Blankenship, who shares her passion for this work.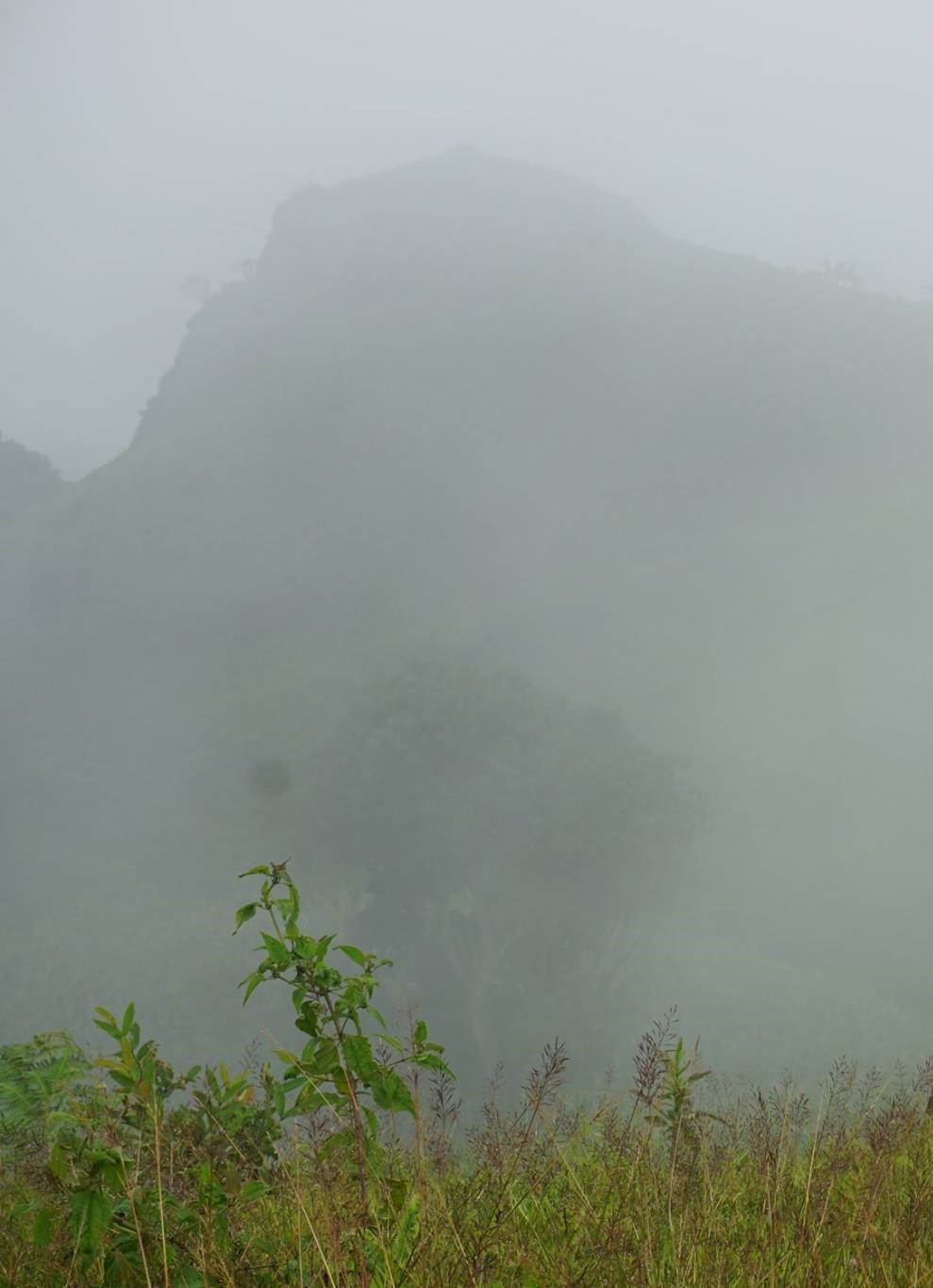 Medical Mission Sisters and Associates in the Philippines are working with the Missionaries of the Assumption in Davao to provide relief for those affected by a recent swarm of earthquakes. At least 14 people were killed and more than 400 were injured in Cotabato, a province on the island of Mindanao. An additional 2,000 families have been displaced. Please keep this community in your prayers as they work to recover.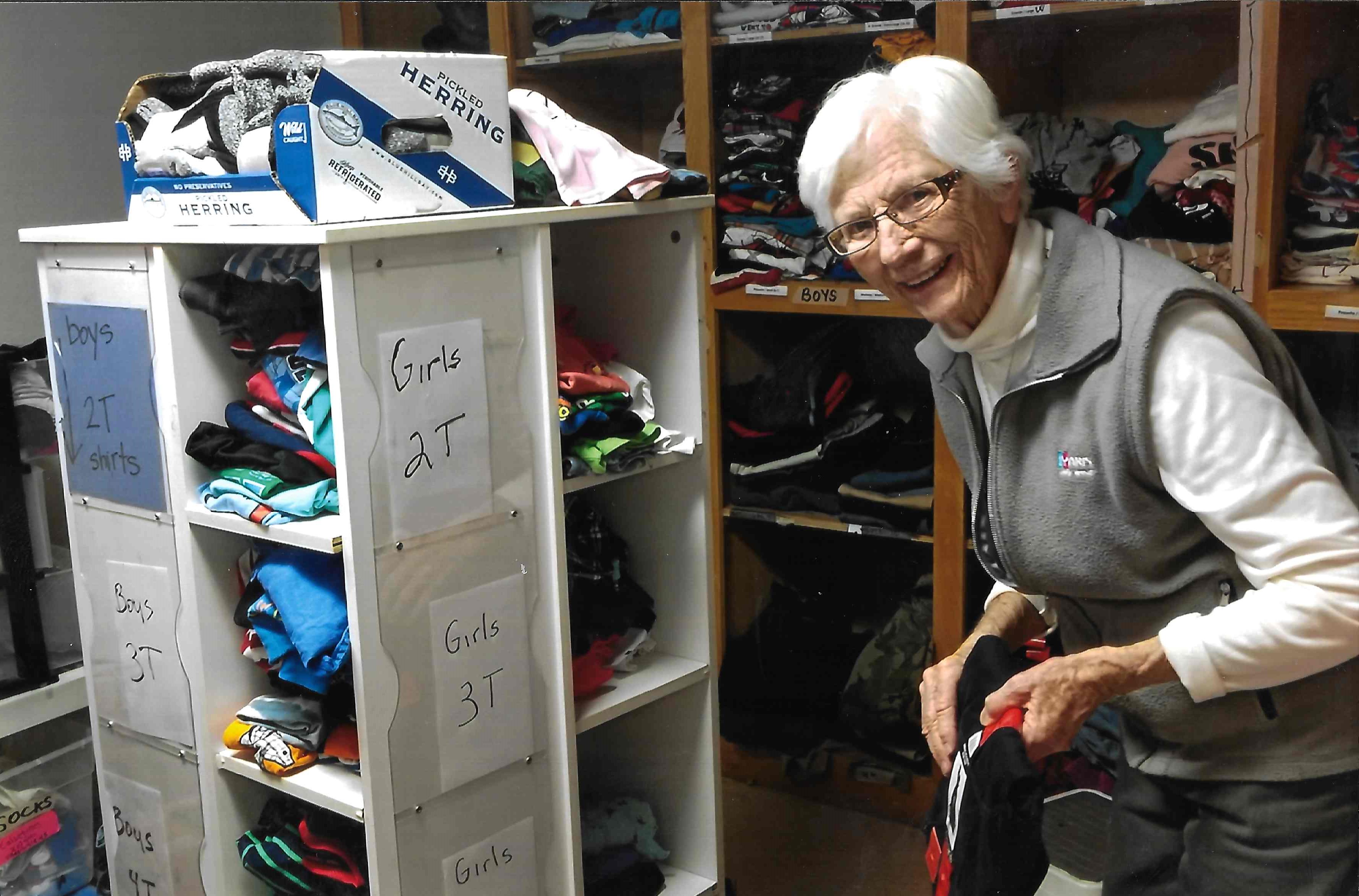 Medical Mission Sisters and Associates in Philadelphia recently said "see you later" to Sister Pat Gootee, who has returned to the U.S. Mexico border to work with Central American migrants. For Sister Pat, who spent 40 years in Peru and speaks fluent Spanish, the work is very close to her heart. Earlier this year, she volunteered at Caritas in El Paso for three months. This time around she will join Sister Judy MacDonnell in Tucson, Arizona.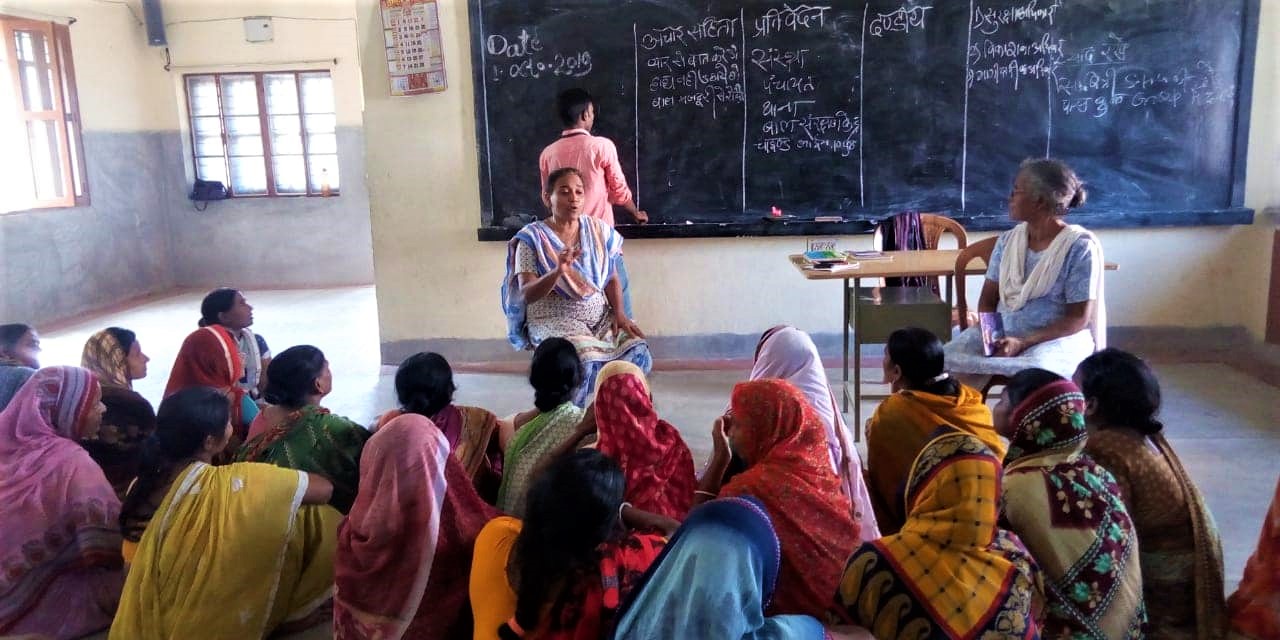 Medical Mission Sisters and Associates in countries around the world are engaged in projects to educate and empower women, often in societies where gender inequality is especially pervasive. Young girls are statistically less likely to receive an education than young boys, even though data consistently proves the old African proverb: "when you educate a girl, you educate a nation." Data also shows that when women made poor are given economic resources like micro-credit loans, they start businesses and invest in their children's futures. Education and economic independence foster self-esteem and, ultimately, empowerment.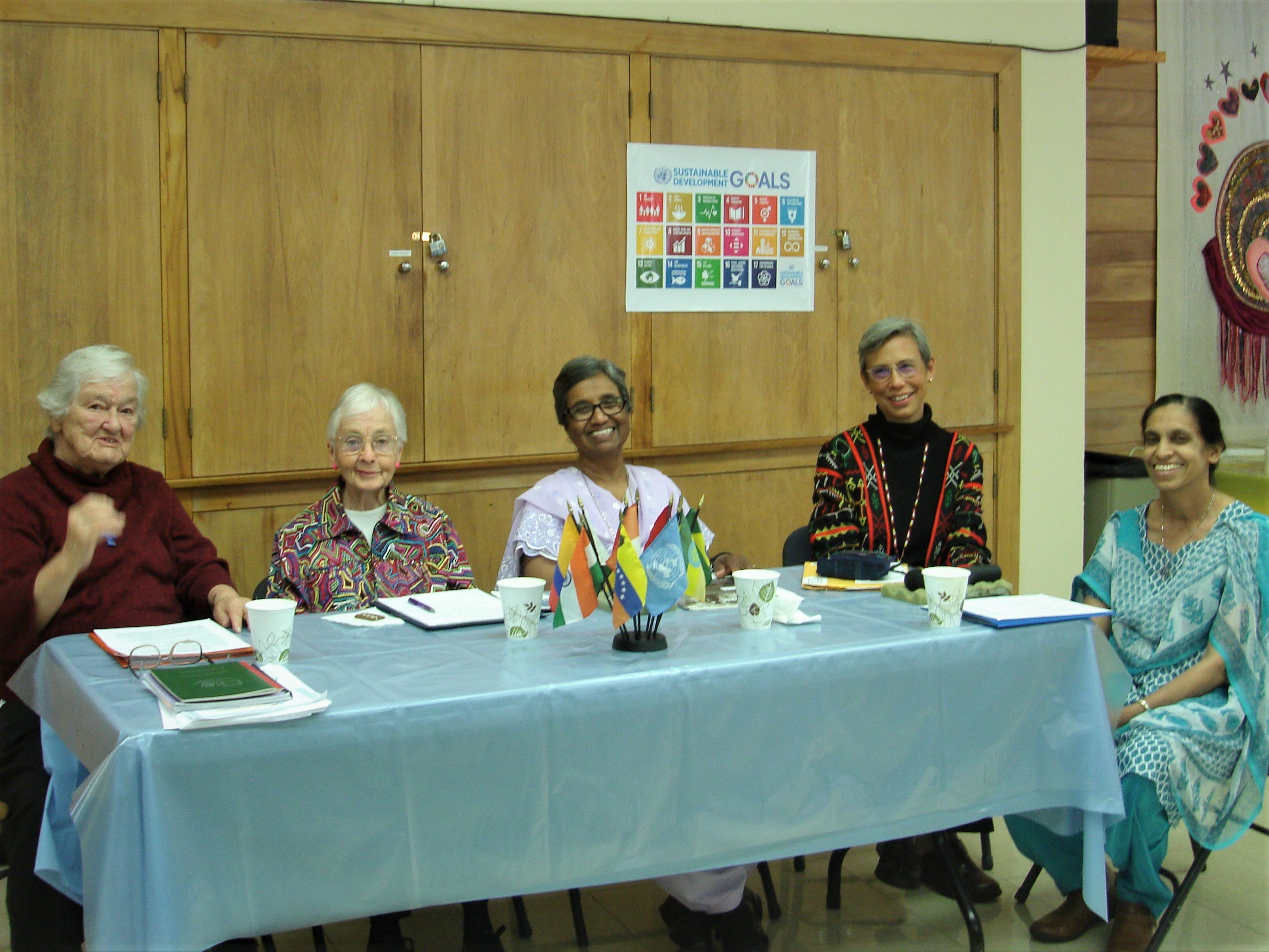 Medical Mission Sisters and Associates all over the world celebrated 25 years of official NGO status with the United Nations on October 24. In North America, we honored the occasion with High Tea during which a panel of speakers reflected on the rich history of our Society's participation with the UN and how it has evolved since 1994. Later we enjoyed a festive meal with international dishes, with some MMS wearing clothing from their native countries or from countries in which they were in mission.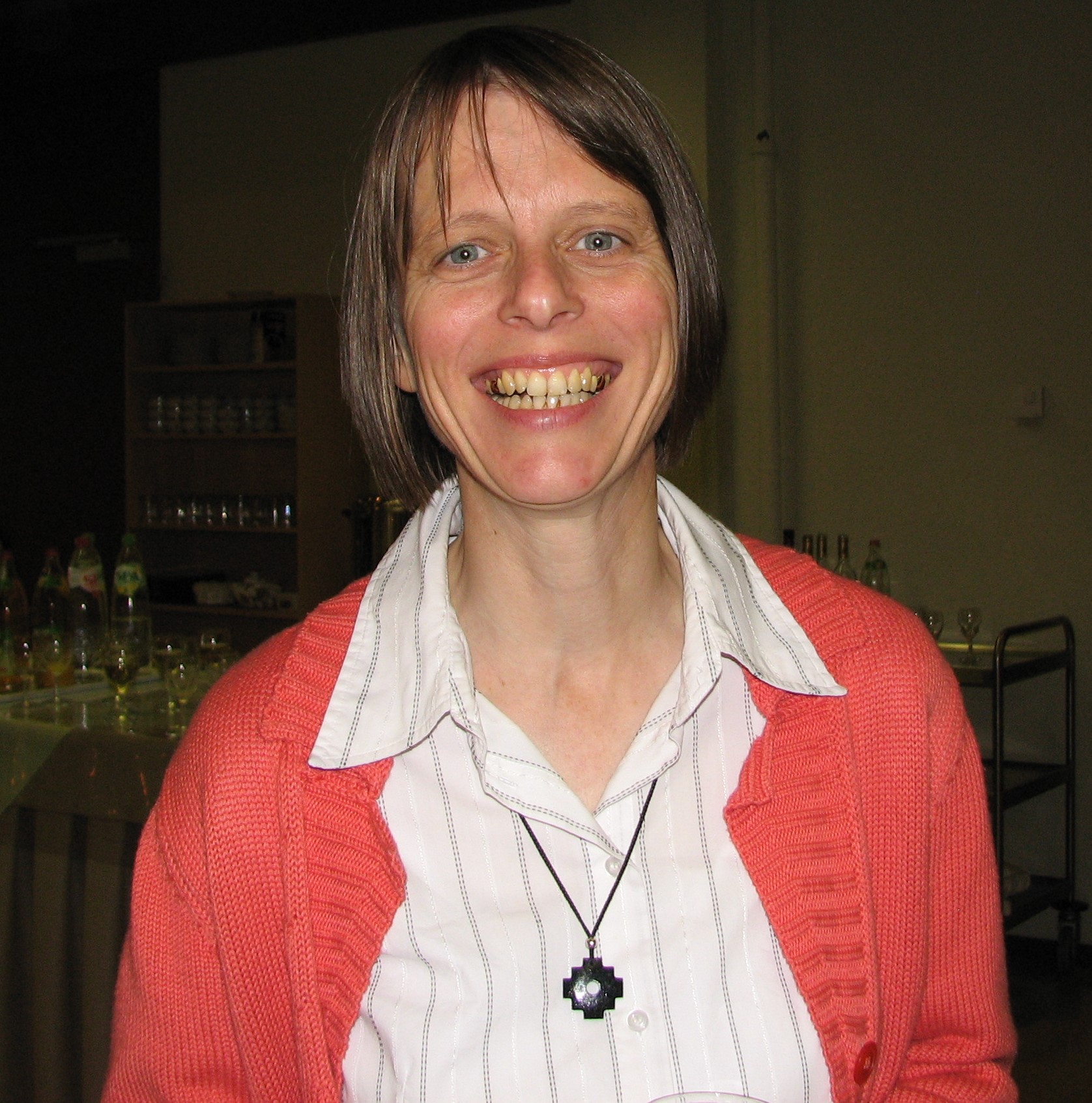 MMS Invited to Join Synod
Sister Birgit Weiler was recently appointed by Pope Francis to serve as an expert on a Synod titled "The Amazon: New Paths for the Church and for Integral Ecology." She will join bishops from dioceses around the world in Rome from October 6-27 to discuss the role of the Church in addressing the crisis in the Amazon rainforest.
Sister Birgit shares that she prays for God to "assist us in opening new ways so that God's healing and life-giving love can flow freely to our Earth community and that global solidarity and commitment to care for the Earth and especially the Amazon may grow."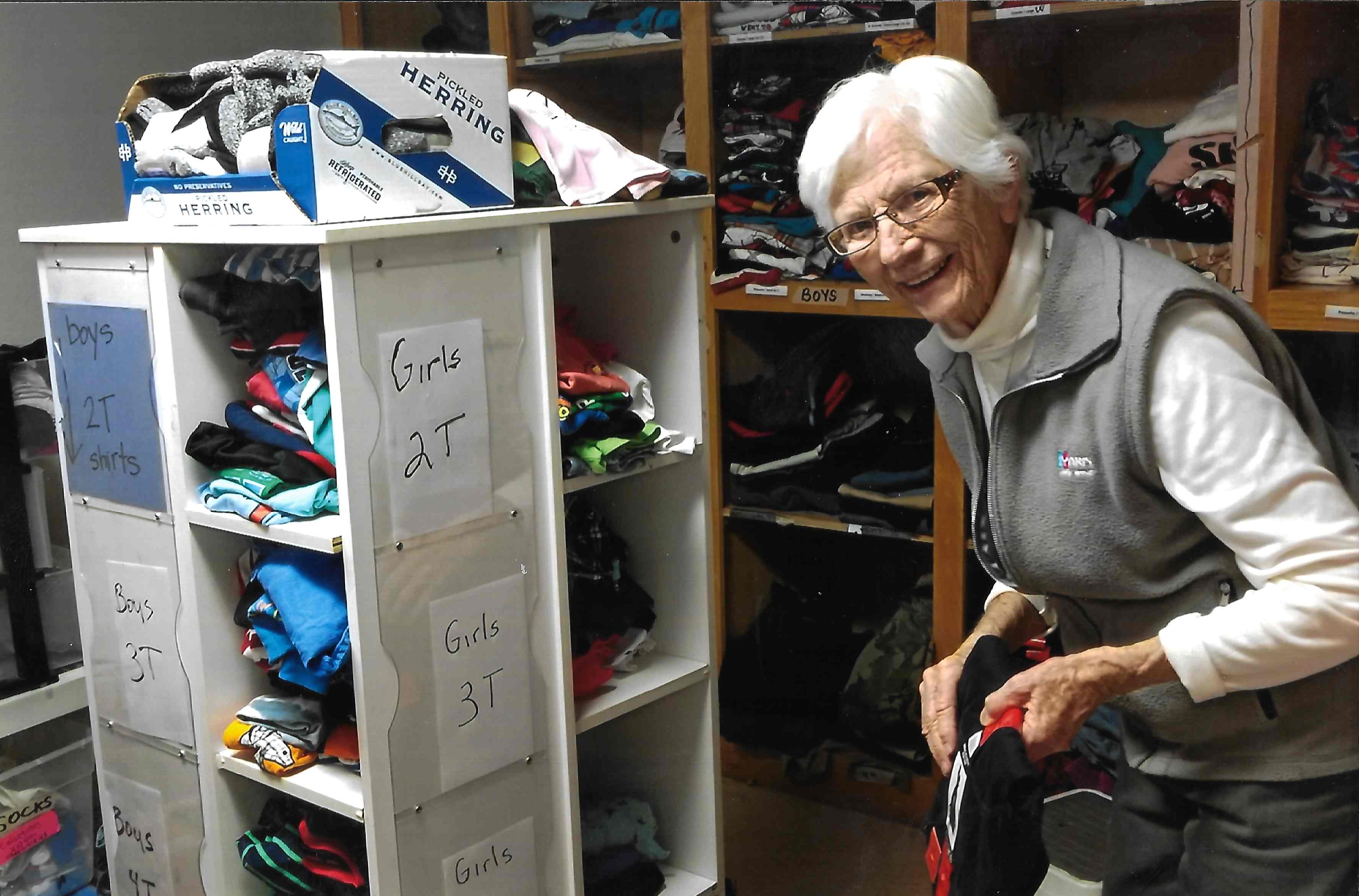 While volunteering in El Paso, Texas this past year, Sister Pat Gootee heard the same story over and over again - accounts of fear and humiliation, of individuals fleeing for their lives. Migrants arrive at the Caritas shelter she worked at in busloads, usually between 40 and 80 people at a time. They stay an average of 1-3 days, until their sponsor (usually a relative or friend) sends them a travel ticket. Most of the migrants have escaped the violence, forced gang recruitment, government corruption, extortion, poverty and hopelessness that has made Central America's Northern Triangle so infamous.
During her three months at Caritas, Sister Pat never prodded the usually exhausted travelers about their experiences. Sometimes, though, she'd see an individual crying, and she would try to comfort them. Soon enough, the words poured out of the person's mouth in waves, faster than their tears.
Other times, people opened up to Sister Pat while she was on duty in the Caritas clinic. She was one of only a few volunteers who spoke Spanish, and she also happens to be a good listener.
"I think people were happy to have the opportunity to talk to somebody who understood them, and that's why I'd like to go back," Sister Pat reflected.
She plans to return to the border in October, and this time she'll stay in Tucson, Arizona, with Sister Judy MacDonnell, who volunteers at the Casa Alitas program that serves migrant families. Like in El Paso, not a day passes without a border patrol or Immigration and Customs Enforcement (ICE) official calling to let them know, "we're bringing over 50 people." Soon enough, the busload arrives. When the migrants get off, Sister Judy gets to work helping the Casa Alitas volunteers find rooms for them, replace the belts and shoe laces that were confiscated during their detainment, and phone each migrant's sponsor.
More than 14,000 migrants have come through Casa Alitas since January. Often, they arrive with the markers of prolonged exposure to the elements: cuts, bruises and skin infections, to name a few. Often, they are depressed, and malnutrition is so common that, at mealtime, Sister Judy helps serve what she and the other volunteers call "migrant soup," which is a broth with torn up bits of chicken and other ingredients the migrants eat until their bodies can handle normal amounts of fat and protein again.
While the suffering that Sisters Judy and Pat have seen can be heartbreaking, the outpouring of support from the El Paso and Tucson communities has been heartening. For example, a real estate developer who had purchased a vacant Benedictine monastery with the intention of commercializing it invited Casa Alitas to use his facility for a set amount of time. When that time was up, he extended the deadline while the local community searched for a new facility, eventually settling on a spacious juvenile detention center that was conveniently located near a transportation center. The volunteers redecorated the halls and rooms with bright paint, rugs and murals. They took the heavy locked doors off the hinges and replaced them with colorful curtains.
When food and supplies run low or a migrant needs a ride to the airport, all Sister Judy must do is send a message out to the volunteer group listserv. It isn't long until the rice, or the beans, or other needed supplies appear on the doorstep. The same is true in El Paso, where community members take money from their own pockets and cook large meals for the hungry travelers. Sisters Pat and Judy are grateful to the kind and gracious neighbors who join as partners in this mission of compassion.
Sister Pat's own compassion for these people who have taken such risks to better their situation keeps drawing her back. She recalls stopping in Tucson to visit Sister Judy who had just moved into a two-bedroom apartment. "The second bedroom," Sister Judy told Sister Pat, "is for guests who come to volunteer." Sister Pat pointed to the room, and said, "that's mine."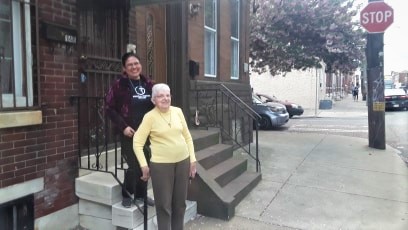 Walking on the sidewalks of Kensington, I saw volunteers giving clean needles to trembling hands on the street - I assumed they were trying to stop disease spread through unclean, shared needles. All around us, used heroin needles littered the sidewalk. As I walked past a gated lot where children enjoyed riding bicycles and playing basketball, I wondered how such innocence could exist alongside the reality of old men passed out on the street, some clutching malt liquor "hidden" inside brown paper bags.
In the short walk from Somerset station to the Blessed Sarnelli Community on the 2700 block of Kensington Avenue, where I was to meet Sister Marisol, I silently hoped that helping her serve food to the community might in some way allow me to make sense of what I saw on the street, and to see the neighborhood as more than just a place where people become addicted to drugs.
Sister Marisol, myself and another volunteer formed a sort of assembly line - Sister Marisol served spaghetti, I served salad, and the other volunteer served cake. While the people in line included families and low wage earners supplementing their income, there were also faces Sister Marisol recognized from working at New Day, a local drop-in center that provides services to women working in prostitution. Often, they are also feeding a vicious drug habit.
Sister Marisol, who recently moved to the United States from her native Peru, has lived in Kensington for a year. Not long after beginning work at Sarnelli, she was surprised when one of the program's managers, a very tall and healthy-looking young man, revealed to her that, not long ago, he had been homeless and addicted to drugs. Since then, she has met other people with similar stories.
"By serving food I hope I can help to relieve at least some of a person's struggle," Sister Marisol shared.
When all the food was gone, Sister Barbara Ann Brigham walked up as I waited outside for Sister Marisol. The Sisters share a house just a few blocks away from Sarnelli and, on that day, Sister Barbara Ann had forgotten her key. As we waited for Sister Marisol to finish her duties, I learned that Sister Barbara Ann has lived in Kensington for a decade, during which time she has taught English as a Second Language to Spanish-speaking residents, in addition to overseeing Alternatives to Violence workshops at a recovery center run by Sisters Margaret McKenna and Sylvia Strahler and at a New York State prison.
Sister Barbara Ann loves living in Kensington, where neighbors recognize her on the street and greet here with a cheerful "Hello, Sister!" Sitting inside the cozy home she shares with Sister Marisol, she spoke candidly about the stories of childhood trauma, neglect and abuse she has heard so many times over the years. In many cases, the people she works with were raised by parents who abused drugs or alcohol themselves. As she spoke, I began to suspect that perhaps people sometimes turned to drugs because they never learned healthier coping strategies during their upbringing.
Sister Barbara Ann reflected, "If you couldn't trust your parents, who you felt abandoned by, then who can you trust in your life?"
Programs like Alternatives to Violence work to provide adults with the tools for healthy communication and coping with difficult situations that they didn't receive earlier in life. The results of the program are undeniable for Sister Barbara Ann - the men in the prison where she works eagerly collaborate with her, and several have expressed relief at having a space where they are free to be themselves. Over the years, she has kept in contact with former inmates who have returned transformed to their neighborhood.
"The world needs more people like them," Sister Barbara Ann says.
For Sister Marisol, serving food and assisting women at the drop-in center offers her an opportunity to simply be a friendly, welcoming face. "My job is to listen," she said. "Sometimes [the women at New Day] need to vent. They cry sometimes. This is why I volunteer [in Kensington]."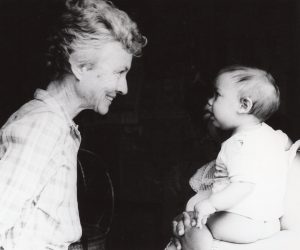 For a Medical Mission Sister, retirement is a vague concept-even our Sisters in their eighties and nineties can't sit still for too long...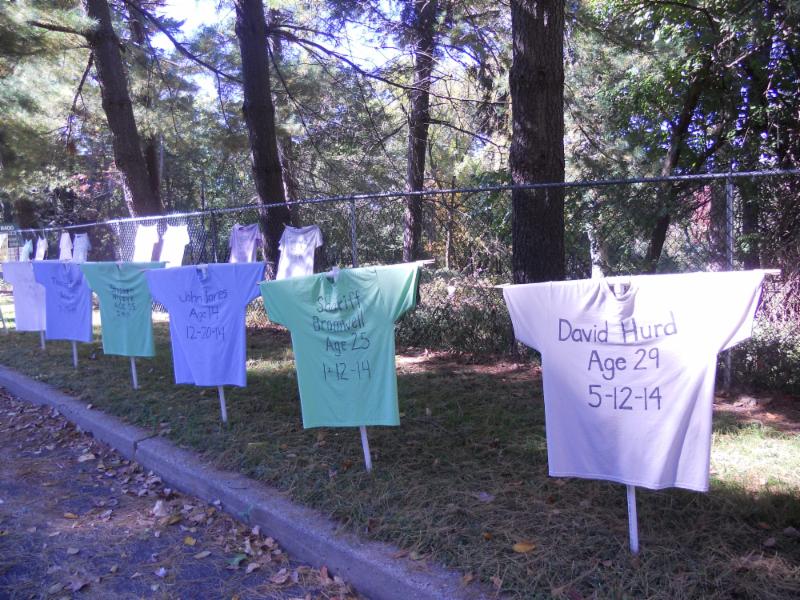 Only three months had passed since her son's death, but Associate Marge Sexton felt hopeful when she walked into a Philadelphia gun shop in March 2015...