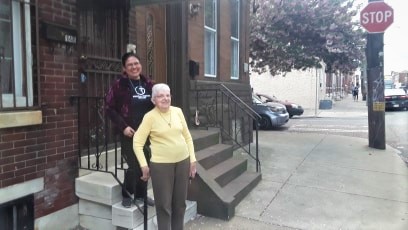 A Healing Presence in Kensington
Walking on the sidewalks of Kensington, I saw volunteers giving clean needles to trembling hands on the street - I assumed they were trying to stop disease spread through unclean, shared needles. All around us, used heroin needles littered the sidewalk. As I walked past a gated lot where children enjoyed riding bicycles and playing basketball, I wondered how such innocence could exist alongside the reality of old men passed out on the street, some clutching malt liquor "hidden" inside brown paper bags.
In the short walk from Somerset station to the Blessed Sarnelli Community on the 2700 block of Kensington Avenue, where I was to meet Sister Marisol, I silently hoped that helping her serve food to the community might in some way allow me to make sense of what I saw on the street, and to see the neighborhood as more than just a place where people become addicted to drugs.
Sister Marisol, myself and another volunteer formed a sort of assembly line - Sister Marisol served spaghetti, I served salad, and the other volunteer served cake. While the people in line included families and low wage earners supplementing their income, there were also faces Sister Marisol recognized from working at New Day, a local drop-in center that provides services to women working in prostitution. Often, they are also feeding a vicious drug habit.
Sister Marisol, who recently moved to the United States from her native Peru, has lived in Kensington for a year. Not long after beginning work at Sarnelli, she was surprised when one of the program's managers, a very tall and healthy-looking young man, revealed to her that, not long ago, he had been homeless and addicted to drugs. Since then, she has met other people with similar stories.
"By serving food I hope I can help to relieve at least some of a person's struggle," Sister Marisol shared.
When all the food was gone, Sister Barbara Ann Brigham walked up as I waited outside for Sister Marisol. The Sisters share a house just a few blocks away from Sarnelli and, on that day, Sister Barbara Ann had forgotten her key. As we waited for Sister Marisol to finish her duties, I learned that Sister Barbara Ann has lived in Kensington for a decade, during which time she has taught English as a Second Language to Spanish-speaking residents, in addition to overseeing Alternatives to Violence workshops at a recovery center run by Sisters Margaret McKenna and Sylvia Strahler and at a New York State prison.
Sister Barbara Ann loves living in Kensington, where neighbors recognize her on the street and greet here with a cheerful "Hello, Sister!" Sitting inside the cozy home she shares with Sister Marisol, she spoke candidly about the stories of childhood trauma, neglect and abuse she has heard so many times over the years. In many cases, the people she works with were raised by parents who abused drugs or alcohol themselves. As she spoke, I began to suspect that perhaps people sometimes turned to drugs because they never learned healthier coping strategies during their upbringing.
Sister Barbara Ann reflected, "If you couldn't trust your parents, who you felt abandoned by, then who can you trust in your life?"
Programs like Alternatives to Violence work to provide adults with the tools for healthy communication and coping with difficult situations that they didn't receive earlier in life. The results of the program are undeniable for Sister Barbara Ann - the men in the prison where she works eagerly collaborate with her, and several have expressed relief at having a space where they are free to be themselves. Over the years, she has kept in contact with former inmates who have returned transformed to their neighborhood.
"The world needs more people like them," Sister Barbara Ann says.
For Sister Marisol, serving food and assisting women at the drop-in center offers her an opportunity to simply be a friendly, welcoming face. "My job is to listen," she said. "Sometimes [the women at New Day] need to vent. They cry sometimes. This is why I volunteer [in Kensington]."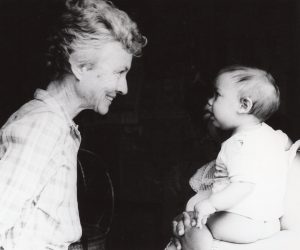 For a Medical Mission Sister, retirement is a vague concept-even our Sisters in their eighties and nineties can't sit still for too long...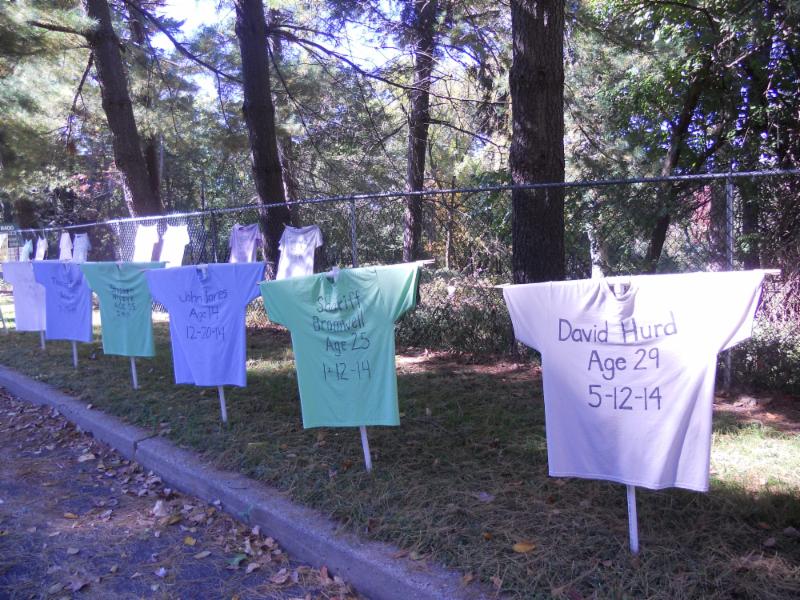 Only three months had passed since her son's death, but Associate Marge Sexton felt hopeful when she walked into a Philadelphia gun shop in March 2015...